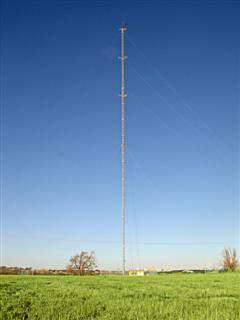 Solid Steel Construction
Means solid corrosion protection and smaller surface area, meeting or exceeding the latest EIA criteria and comes with a five year warranty on labor & materials.
Hot Dip Galvanization
Zinc coating on all hardware and components meet EIA and AGS standards.
Wind Force
Western's guyed towers are designed to withstand winds of up to 150 mph. Towers requiring higher or lower wind or ice loads are custom engineered.
Climbing Ladder
All guyed towers are equipped with built-in or external ladders, meeting the latest ANSI specifications.

Wave Guide Ladder
All wave guide ladders are customized for built-in or face mount applications.
Solid Welded Construction
Eliminates bolted connections of diagonals and horizontals on standard 20 foot sections.
Various Sizes, Heights, & Capacities
Please contact us with the tower requirements, and we will provide a proposal for each specific tower need.